Welcome to the Pocumtuck Valley Memorial Association and the Memorial Hall Museum
PVMA/Memorial Hall Museum is one of New England's oldest museums. When Deerfield Academy's original 1798 school building became available, antiquarian George Sheldon organized the collection of artifacts he was assembling and in 1880, Memorial Hall opened. The museum's extraordinary collection of furnishings, paintings, textiles and Indian artifacts is "the finest collection of local antiquities in New England and one of America's oldest museums." We also have several award-winning websites. Please visit our museum in person, and visit our websites online.
Museums of Deerfield
On-line information about the Memorial Hall Museum and the Pocumtuck Valley Memorial Association in Deerfield, Massachusetts, including museum exhibits, special events throughout the year, school programs, special features and the Museum's on-line store.
Deerfield Teachers' Center
The Deerfield Teachers' Center is offered by the Pocumtuck Valley Memorial Association and Memorial Hall Museum, in Deerfield, Massachusetts. We offer professional development programs and resources to support the teaching of American History. Programs, workshops, history kits, "Historys To Go" and field trip content and schedules are detailed.
American Centuries: View From New England
Explore history with this extensive collection of over 2000 historically significant artifacts and documents, curricula, age appropriate interactive activities, and teachers' lesson plans designed by teachers for teachers.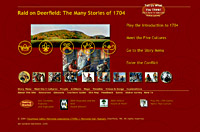 Raid on Deerfield - The Many Stories of 1704
This web site both commemorates and reinterprets the raid on Deerfield, Massachusetts in
1704 from the perspectives of all the cultural groups who were present: Wobanakiak, Kanienkehaka, Wendat, English, and French. The site brings together a multitude of features including historical scenes, narratives of peoples' lives, artifacts and historic documents, interactive maps, voices and songs, essays, illustrations/paintings, and an interactive timeline to provide a window into a world of global political and religious conflict, family stories, and military sagas.