DISTANCE LEARNING LESSONS
Overview
These lessons were created by Deerfield Teachers' Center staff who worked with area teachers. The lessons meet Massachusetts History and Social Studies and English Language Arts frameworks and are designed to be taught by a teacher working from home or from an empty or full classroom. They are also appropriate for homeschoolers.
The Lessons Include:
• Three Great Colonial Enslaved Women from Massachusetts Who Gained their Freedom
• What Made George Washington So Great? A Lesson about Leadership
• Antonina's World: Eastern European Immigration
• Made in America: Colonial Imports, Exports, and Boycotts
• Seadogs of the Caribbean: The European Explorers' World on Maps
• Examining the 17th Century Raid on Peskeompskut in Western Massachusetts Through Two Sets of Eyes
• "The Rambling Female Sailor": A Lesson about Women Who Broke Historic Gender Stereotypes
• The County Election: A History of Voting Rights in America
• "Geography is Destiny": Eastern European Immigration to the Connecticut River Valley in Massachusetts
• The Great Migration-How Art Reflects Life
See Distance Learning for more information and the lessons.
---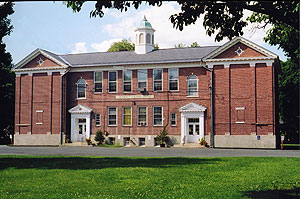 "The [professional development] by the Pocumtuck Valley Memorial Association is the best professional development program that I have experienced as both a teacher and administrator."--School Principal
Professional Development
The Deerfield Teachers' Center offers a wide variety of professional development programming in history and related humanities. Teachers' Center programs meet the needs of all teachers charged with developing their Kindergarten through Grade 12 students' Common Core literacy skills. This is achieved through content-driven, interactive, literacy-building techniques. The Deerfield Teachers' Center is an authorized PDP provider which offers cutting-edge professional development designed and delivered by our experienced staff of humanists and historians, museum educators, and master classroom teachers.
Nationally recognized and affordable programs of the DTC:
Meet Common Core standards for English Language Arts and Literacy in History / Social Studies
Provide effecive hands-on, engaging classroom strategies
Integrate literacy building, 21st century learning skills
Are aligned with the Massachusetts State Standards for History and Social Studies
Are available on site in your school or district, or at the Teachers' Center located in scenic Old Deerfield
Encourage the integration into classroom teaching of high quality websites (many of which deliver primary sources to the classroom) including Memorial Hall's American Centuries, the Raid on Deerfield: The Many Stories of 1704, Shays' Rebellion and the Making of a Nation and Impressions From a Lost World. These sites feature web-based lessons and activities by and for teachers.
Can integrate in-class programs for students.
Visit the Programs page to see exciting new grant-funded and fee for service summer offerings!
Visit the Field Trips page to see exciting offerings for field trips to the Indian House Children's Museum and Memorial Hall Museum.
Funding for the Deerfield Teachers' Center is provided in part by grants from:

| | | |
| --- | --- | --- |
| The United States Department of Education | The Massachusetts Cultural Council | The Institute of Museum and Library Services |