Contact Us
The Deerfield Teachers' Center is open Monday - Friday by appointment from 9:30 AM to 4:30 PM. Please call 413-774-7476, ext. 330, for more information, or a list of materials and programs currently available. You may also email requests to Lynne Manring, Program Coordinator. Or, you may send a fax to us at 413-774-5400.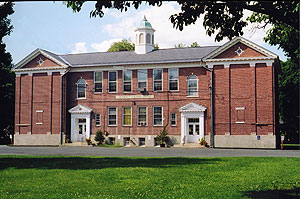 The Center is located at the
Pocumtuck Valley Memorial Association:
10 Memorial Street
P.O. Box 428
Deerfield, MA 01342-0428

Directions: Memorial Hall Museum and Pocumtuck Valley Memorial Association are located on the corner of Memorial Street and Routes 5 & 10 in Deerfield, Massachusetts. From the south, take I-91 North to Exit 24, then drive 6 miles north on Rt. 5. From the north, take I-91 South to Exit 25, and follow signs for Rt. 5 North 5 miles to Deerfield.
Download printable directions here.